Summer Layered Eggplant
Sophie Dalah
I really love eggplants. They are such a versatile and delicious vegetable. This dish celebrates the beloved aubergine and the season in which it grows. Copious amounts of herbs always make a dish feel fresh. Enjoy the most morish bite!
Back to the Kitchen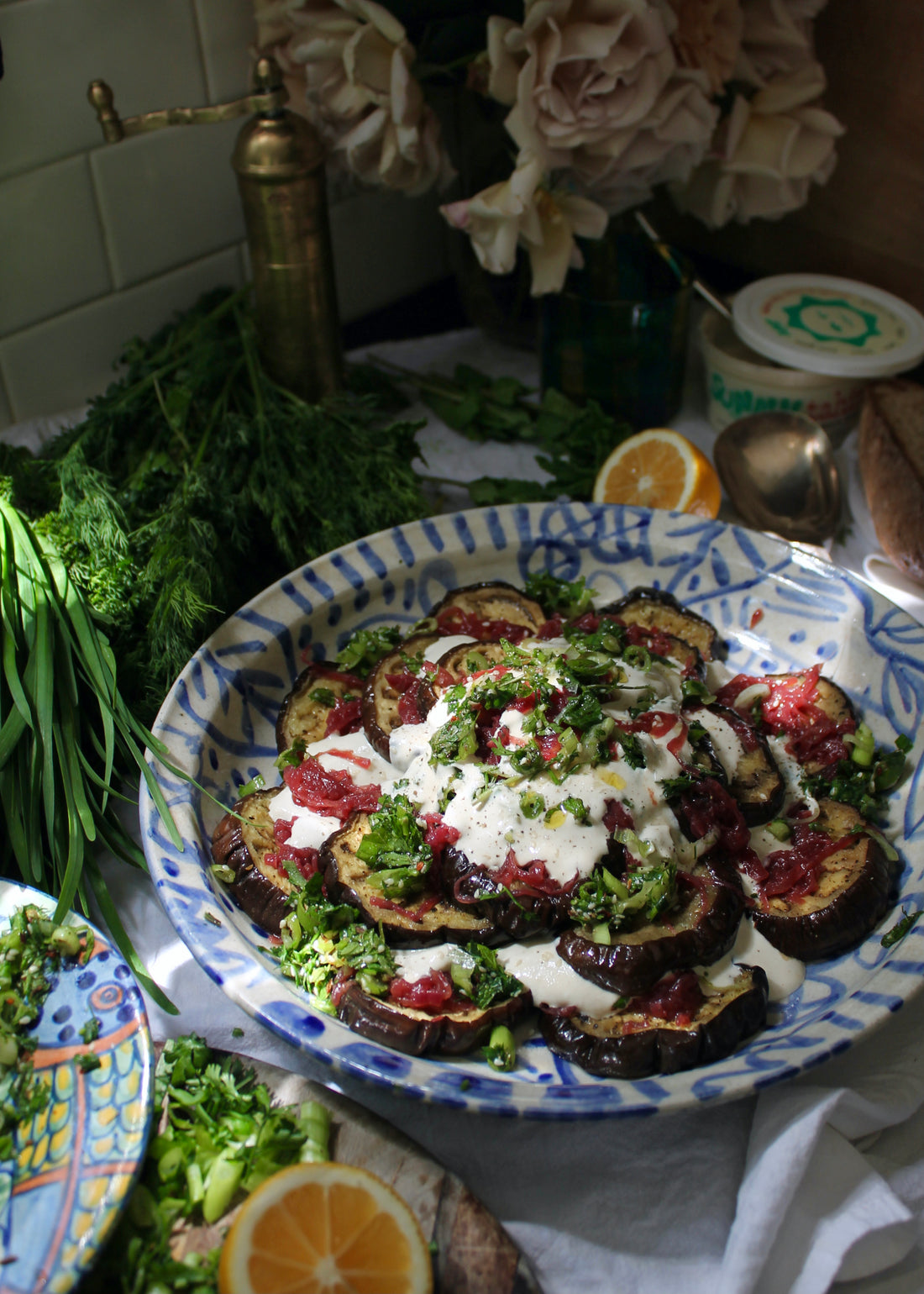 Ingredients
3 eggplant, cut into 1/2-inch discs
2 red onion, sliced thinly in half moons
2 Tbsp. red wine vinegar
1 tsp. of cumin
1/3 cup olive oil
1 Sunny Original Tahini Sauce
Herby Topping
1/2 bunch cilantro
1/2 bunch mint
4 green onion
2 Tbsp. sesame seeds, toasted
1 lemon
2 tsp. sumac
1 tsp. cumin
1 Tbsp. date molasses or honey
Salt and pepper to taste
Steps
Salt sliced eggplant generously and layer it between towels or paper towels to draw out the eggplant's water and bitterness. Let it drain for at least an hour.
Preheat the oven to 375° F.
While the eggplant is draining, place your sliced onion in a well oiled pan. Add cumin, a splash of red wine vinegar, and cook on low heat until the onions are caramelized with a deep reddish brown color. This should take about 30 minutes.
Blot the eggplant dry, and toss in a bowl with olive oil to coat each slice. Season with pepper.
Place in the eggplant on a sheet pan and roast at 375° F for about 30 minutes or until golden and soft in the middle.
As they cook, finely chop herbs and green onions and place them in a small bowl. Add sesame seeds, lemon juice, honey, and spices. Mix to combine.
Once your eggplant is done cooking, let it cool for 10 minutes. This dish is best served warm/room temperature.
Layer eggplant onto a big plate and top with caramelized onions, the herby topping, and the real hero of every dish, Sunny. Repeat again to make a second layer, saving enough of the herby topping and Sunny to garnish the top.