Sesame Steak Tartare
Jason Stewart
This recipe is a Japanese spin on the classic tartare without the use of eggs or dairy, replacing it with delicious, creamy tahini. I like serving this recipe on an endive leaf for a fresh bite, but it goes just as well on a shrimp chip or potato chip. Tartare is typically made with filet or tenderloin, but feel free to experiment with other high quality cuts. Trim anything off of the meat that isn't super tender. It won't be fun to chew if it's hard to cut with a knife.
Back to the Kitchen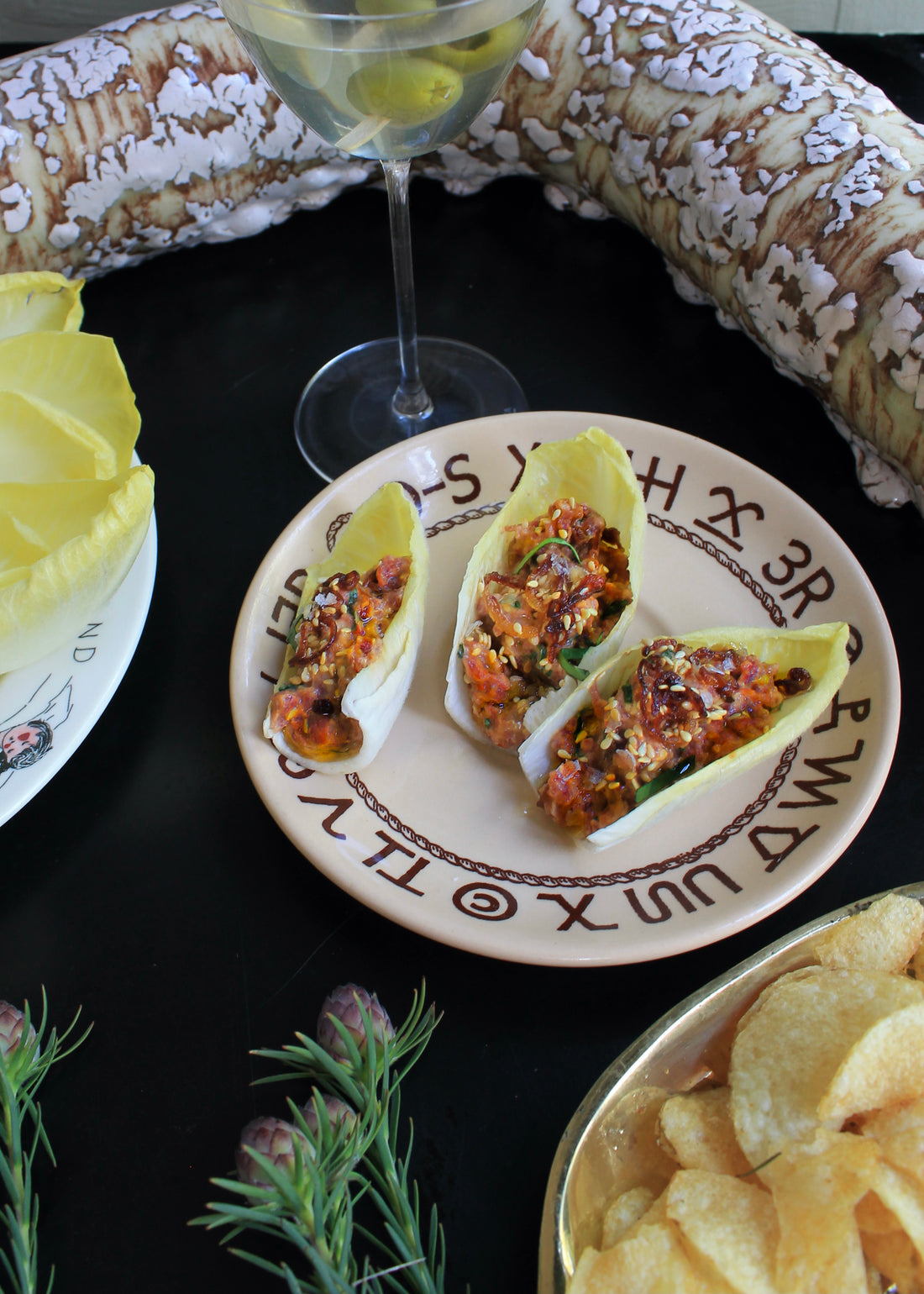 Ingredients
8 oz. of tender beef, filet or tenderloin
1/2 tsp. salt
2 Tbsp. Sunny Original Tahini Sauce
1/2 tsp. Sambal Oelek
1/4 tsp. rice vinegar
1/4 tsp. soy sauce
2-3 shiso leaves, large chiffonade cut
1 shallot, peeled and thinly sliced
1/4 cup of cooking olive oil
2 Tbsp. sesame seeds, toasted
Maldon salt
To Serve
endive leaves
shrimp chips
potato chips
toast points
Steps
Rinse beef and pat dry. Place it on a plate in the freezer for 15 minutes to make it easier to slice.
Place shallot and olive oil in a small pot over medium heat. Once shallots start sizzling, reduce to heat low and stir frequently with a fork. Keep an eye on them and cook for about 5 minutes. You don't want them too dark as they add bitterness, but
you want them crispy and fun.
Remove shallots with a fork onto paper towels to dry. Reserve cooking oil for garnish.
Pull your steak from the freezer and carefully slice it into strips and then small squares against the grain. Use your sharpest knife and take your time with it. If you
see any bits of tendon or fat that seem chewy, cut them off for the dogs.
Now combine your steak, Sunny, Sambal Oelek, rice vinegar, soy sauce, shiso, crispy shallots, and salt in a medium mixing bowl. Stir gently to combine. Place in the fridge, covered, for 5 minutes to let the flavors meld.
Remove tartare from fridge and taste for seasoning. If you're serving on endive, you might want more salt. If you're serving on a chip, maybe less salt.
Spoon your tartare onto an endive or chip and top with a sprinkle of sesame seeds, a few drops of your shallot oil, and a whisper of Maldon. Serve immediately.