Herby Gigantes Plaki
Taren Coulter
Plaki is a traditional, baked Greek dish that you will find in tavernas all over Greece. Giant beans are stewed in an aromatic tomato confit for 3 hours, creating a rich comforting flavor. Perfect for a Sunday afternoon at home with family.
Back to the Kitchen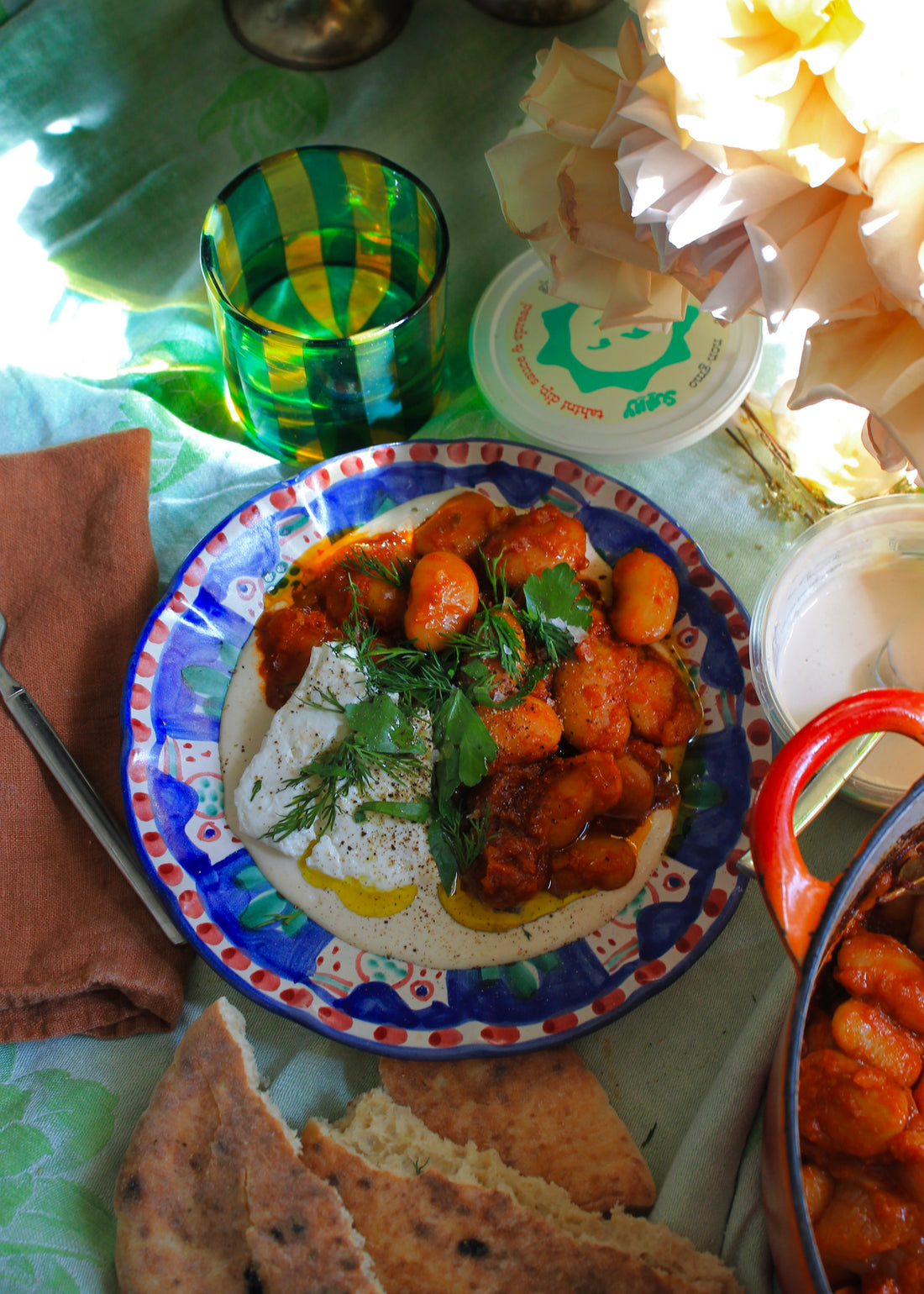 Ingredients
1⁄2 lbs. gigante beans, soaked overnight and drained
1 white onion, cut into 4 wedges
4 garlic cloves, peeled and left whole
1 carrot, finely chopped
1 celery stalk, finely chopped
1⁄2 cup parsley and dill, chopped + extra leaves for garnish
1 bay leaf
A few sprigs of fresh thyme
1 Tbsp. dried oregano
1 pinch red pepper flakes
Freshly ground black pepper
1 handful of cherry tomatoes
12 oz. can of puréed tomatoes
3 cups vegetable broth or water
Glug of red wine
To Serve
Sunny Original Tahini Sauce
Feta
Olive oil
Maldon or other flaky salt"
Steps
Preheat oven to 350° F
In a 3-quart Dutch oven with a lid, combine all ingredients. Generously drizzle with olive oil and cracked pepper. Cover and cook for about 3 hours.
Continue to check on your beans as they cook, adding more liquid/wine if needed to
loosen up the beans. Cook until beans are tender and the tomato broth has thickened.
Turn your broiler on. Remove pot from the oven, take off the lid, and place under the broiler for 5 minutes or so — the beans should be a nice golden color.
Taste and adjust your salt and black pepper notes if desired. Spoon a bed of Sunny onto your plate. Top with beans and a fat feta wedge. Finish with a glug of olive oil and garnish with fresh parsley and dill.